Discography

also^
RAGE / Heavy /Speed / Power Metal
_______________________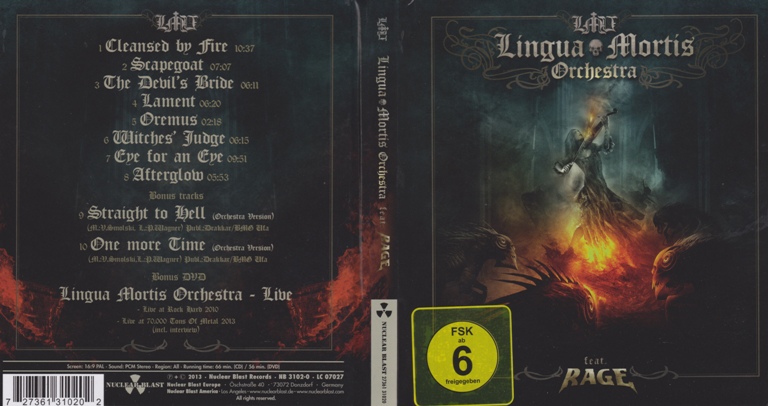 Lingua Mortis Orchestra - LMO
Year:2013
Style:Symphonic Metal
Country:Germany
Tracklist:
01. Cleansed By Fire
02. Scapegoat
03. The Devil's Bride
04. Lament
05. Oremus
06. Witches' Judge
07. Eye For An Eye
08. Afterglow
09. Straight To Hell (Orchestra Version)
10. One More Time (Orchestra Version)
André Hilgers - Drums
Peter "Peavy" Wagner - Vocals (lead), Bass
Dana Harnge - Vocals (additional)
Jeannette Marchewka - Vocals (additional)
Victor Smolski - Guitars (lead), Keyboards
Guest:
Henning Basse - Vocals (backing)
LMO is the debut album by Lingua Mortis Orchestra and the 21st studio album by German heavy metal band Rage released on August 2, 2013 through Nuclear Blast Records. The production was helmed by Charlie Bauerfeind.