Discography

Nanowar is a comedy heavy metal band from Rome, Italy. Their name is a pun on the metal band Manowar, and represents their tendency to satirize True Metal, the primary focus of their music. Their work mainly aims to make humorous references to and jokes about the genre, often parodying the way in which power metal bands are perceived to take themselves very seriously.
In 2006 the band changed their name from Nanowar to Nanowar of Steel, as a parody of the Italian power metal band Rhapsody changing their name to Rhapsody of Fire after a legal dispute. more

Nanowar of Steel (ранее Nanowar) — итальянская пародийная рок-группа из Рима, играющая хэви/пауэр-метал. Название группы является пародией на название известной хеви-метал-группы Manowar и означает «Боевые гномы» (итал. nano — «гном» + англ. war — «война»). Все участники выступают под псевдонимами.
далее
_________________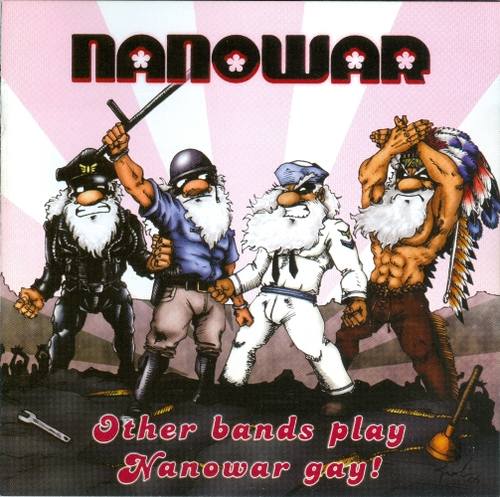 Nanowar Of Steel - Other Bands Play Nanowar Gay!
Year:2005
Style:Heavy Power Metal Hard Rock
Country:Italy
Tracklist:
01. Intrue
02. Tricycles of Steel
03. True Metal of the World (Ah-Ah)
04. Burger
05. King
06. Introducing the Power (Potentia Magni Gladi Vobis)
07. Power of the Power of the Power (Of the Great Sword)
08. Pino
09. Metal-La-La-La!
10. Gioca Truè (Other Bands Play, Nanowar Gay!) (C. Cecchetto/Manowar Parody)
11. The Number of the Bitch (Iron Maiden Parody)
12. Entra L'uomo di Sabbia (Metallica Parody)
13. Triumphant March of the Nano-Warrior
14. Outrue
Gatto Panceri 666 - Bass
Potowotominimak - Vocals
Mohammed Abdul - Guitars, Keyboards
Uinona Raider - Drums
Guest:
Ivan "Yasser" Prado Longhi - Vocals
Fiorella Manoia - Vocals
Betta La Gatta - Vocals
The Elder - Motorcycle
Alberto 'AiJaNai' - Drums
Alessandro Beato - Drums
Michele Lucantoni - Drums
Mister Baffo - Vocals