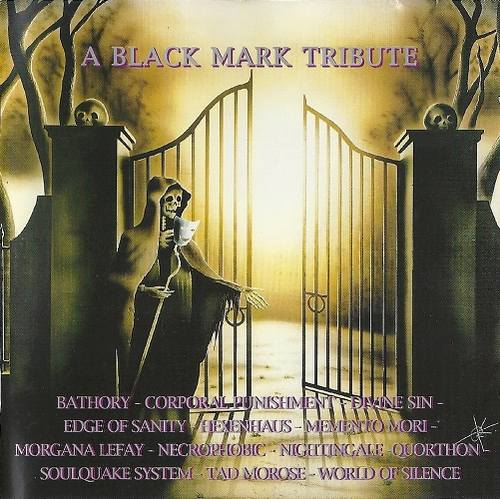 Various Artists - A Black Mark Tribute
Year:1997
Style:Death Doom Heavy Metal
Country:International
Tracklist:
01. SOULQUAKE SYSTEM does their version of Prodigy's "Firestarter"
02. MEMENTO MORI covers Nazareth's "Sold My Soul"
03. NECROPHOBIC does Autopsy's "Ridden with Disease"
04. WORLD OF SILENCE wanders into "Strawberry Fields Forever"
05. QUORTHON pick his all-time favourite track up doing "God Save The Queen"
06. TAD MOROSE does Savatage's "Power of the Night"
07. DIVINE SIN covers Picture's "Eternal Dark"
08. HEXENHAUS does the old classic "War" originally by Edvin Starr but made famous by Bruce Springsteen
09. CORPORAL PUNISHMENT dares it and picks Pet Shop Boy's "It's a Sin"
10. BATHORY of course has to pick Motörheads "Ace Of Spades"
11. NIGHTINGALE does Uriah Heep's "Return To Fantasy"
12. EDGE OF SANITY covers The Police's "Invisible Sun" and finally
13. MORGANA LEFAY does "Parasite" in a way Kiss never would have.